Synthetic bone graft: Bone Matrix I
UNIQUE CELL-FRIENDLY Celike® surface
BETTER WETTABILITY than Spongious bovine bone
MAINTAIN SPACE during bone regeneration
OUTSTANDING RAPID new bone formation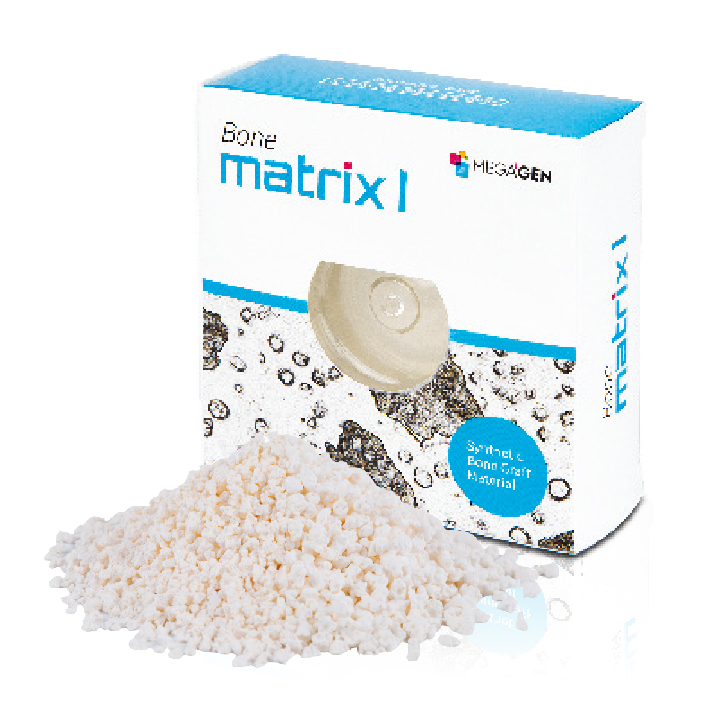 ---
Can synthetic bone have the advantages of Spongious bovine bone?
Superior cell attachment thanks to unique Cell-friendly Celike® surface
Distinct buffed surface of Bone Matrix ITM called Celike® that differs from smooth surface of spongious bovine bone
Comparable network structure to spongious bovine bone
Activates tissue fluids & cell adhesion.
Porosity similar to spongious bovine bone, but better Wettability
Ideal surface area to increase bone regeneration
Perfect combination of macropores (100~500um) for inflow of blood & stem cells + micropores (≤10μm) for inflow of growth factor
Adequate space maintenance due to fully interconnected structure of macropores and micropores.
Exceptional blood wettability for Outstanding new bone formation
Faster new bone formation with ideal ratio of HA and β-TCP
Comparable mineral content to Spongious bovine bone
Ideal ratio of β-TCP rapid absorption & HA space support ability (HA:β-TCP=60:40) even small particles maintain 60:40 combination ratio.
Accelerates the growth of cells and blood vessels
---
HIGH DENSITY of new bone formation
Reported by Dr. Dae-hee Lee, Clinical Advisor for Bone Matrix I
About 5 months after a sinus graft procedure using 100% Bone Matrix I, two AnyOne implants were placed, followed by a temporary bridge after 3 months and the final restoration after a further 3 months. The ISQ values were 77 for #25 and 64 for #27 at the time of implant placement and increased to 82 for #25 and 74 for #27 at the time of final restoration, which is significant as #25 had about 3mm residual bone, while #27 had almost no residual bone. When comparing the radiographs, the synthetic bone also exhibited a slightly lower radiopacity at the time of final restoration, indicating BCP absorption and the formation of new bone. Meanwhile, the appearance of radiopaque new lamina dura in the uppermost area of the sinus cavity bone graft site indicated the establishment of osteogenesis without any evidence of inflammation. Thus, while long-term follow-up of at least five years is still required, the initial 1-year findings show fully effective results when using 100% Bone Matrix I for maxillary sinus bone grafting.
Bone formation after 5 months
Test results using Bone Matrix I show significant new bone growth after 5 months at cut depths of 3mm and 5mm. In contrast to the bone bridging efect of xenograft materials, the alloplastic Bone Matrix I graft material is physicochemically dissolved and absorbed by the tissue fluids and macrophages via phagocytosis, creating a framework for vital bone formation where the new osteoid was shown to contain osteocytes in lacunae. No inflammatory cells, such as multinucleated giant cells, were observed around the connective tissues or blood vessels. A previous study* of xenograft reported a 12.5% density of new bone formation at 6 – 8 mths, representing a bridging effect rather than neoplasm. IN SIGNIFICANT CONTRAST, Bone Matrix I produced a 40% density of new bone formation at 5mths.
* Comparison of Mineralized Cancellous Bone Allograft (Puros) and Anorganic Bovine Bone Matrix (Bio-Oss) for Sinus Augmentation: Histomorphometry at 26 to 32 Weeks After Grafting. Stuart J. Froum, Stephen S. Wallace et al. The International Journal of Periodontics & Restorative Dentistry Volume 26, Number 6, 2006